NPower Texas | Champions of Veterans
Thursday, November 12, 2020, 6:00 PM CDT
Honoring JPMorgan Chase & Co. 
Join business leaders and tech executives from across Texas for the inaugural Champions of Veterans virtual gala. Sponsorships and individual tickets are available here.
Contact Mack E. Campbell at (817) 821-0207, or by email at [email protected] 
ReWire | Virtual NPower Gala
Monday, October 19, 2020, 6:00 PM ET
The tech industry's top networking & fundraising event has gone virtual!  
A new pioneering virtual event which will include pre and post event networking opportunities, VIP sponsor access, mingling rooms, NPower student meet-and-greets, and many new digital surprises replacing a traditional sit-down dinner.
Sponsorships, individual tickets and NPower alumni tickets available. More information here.  
2020 Fall Preview: Diversify Your Tech Talent Pipeline
Tuesday, October 6th, 2:00pm EST / 1:00pm CST / 11:00am PST
Discover NPower's Solution to Building a Diverse, Non-Traditional Talent Pipeline
Join NPower to see first-hand how our innovative approach to providing industry-trained and certified professionals can help fill your entry-level IT positions.
Our graduates have the in-demand skills needed to take on the challenges of your business.
NPower Missouri | Jazz IT Up
Tuesday, September 29, 2020, 4:00 PM CT
Building brighter futures amidst a pandemic
NPower Missouri's 2nd annual Jazz IT Up event will be a virtual event featuring live entertainment from the Saint Boogie Brass Band, an inspiring keynote speaker, and stories of success & resilience from NPower alumni.
NPower Texas | North Texas Giving Day
Thursday, September 17, 2020
Powered by Communities Foundation of Texas 
For the second year, NPower is participating in Communities Foundation of Texas' North Texas Giving Day, a one-day online giving extravaganza for our whole region. The big day is September 17th and you can even schedule your donation now.
Last year, North Texas Giving Day brought together nearly 3,000 organizations to raise $50 million. We have set an goal of $2,500 to raise by September 17, and we need your help.
Learn more here. 
NPower Spring 2020 Virtual Graduation Celebration
Thursday, August 6, 2020, 6:00 PM CT
Join us virtually to celebrate our future tech professionals! 
Our technology trainees have powered through the health pandemic and an economic recession to invest in building the skills they will need for the tech jobs of the future. We hope you will join us along with their families and friends that have been their support systems in celebrating their incredible achievements.
Watch the replay here.
NPower's Summer Kick Off Info Session
Jumpstart Your Career in IT - From Home!

Wednesday, August 5, 2020, 2:00 PM ET
Join us to learn more about NPower's FREE IT training program. We can't wait to meet you online and answer your questions. 
Learn more and apply to our Tech Fundamentals program here. 
*Must be a young adult 18-25 with a high school diploma or equivalent or a veteran or military spouse of any age.*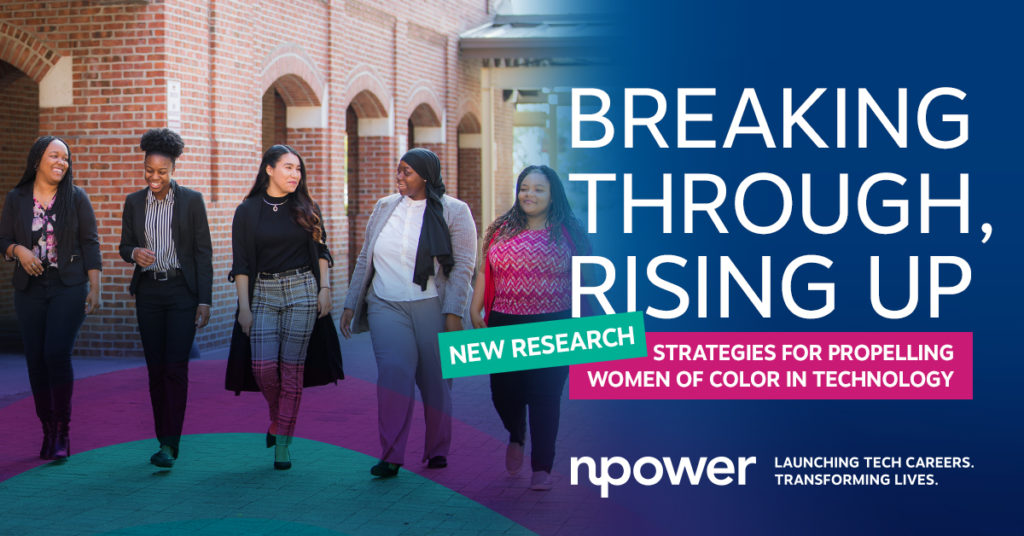 NPower's Breaking Through, Rising Up Research Launch Event
Thursday, June 18, 2020, 1:00 PM ET
NPower New York Fall 2019 Graduation
Wednesday, December 11, 2019, 5:00 PM - 8:00 PM EDT
Citi
388 Greenwich Street
New York, NY 10013
NPower Texas Fall 2019 Graduation
Thursday, December 12, 2019 6:00 PM - 8:00 PM CDT
Microsoft Tech Center
7000 State Highway 161
Irving, TX 75039
NPower New Jersey Fall 2019 Graduation
Thursday, December 12, 2019, 5:00 PM - 8:00 PM EDT
JPMorgan Chase & Co.
575 Washington Blvd.
Jersey City, NJ 07310
NPower Missouri Fall 2019 Graduation
Tuesday, January 7, 2020, 6:30 PM - 8:00 PM CDT
Saint Louis Zoo 
The Living World 
Government Drive 
Saint Louis, MO 63110
NPower Maryland Fall 2019 Graduation
Wednesday, January 8, 2020, 5:30 PM - 8:30 PM EDT
University of Maryland Medical
Medical School Teaching Facility – Auditorium
685 West Baltimore Street
Baltimore, MD 21201
NPower California Fall 2019 Graduation
Thursday, January 16, 2020, 6:00 PM - 8:30 PM PDT
Palo Alto Networks
3200 Tannery Way
Building #3
Santa Clara, CA, 95054
Wednesday, October 15, 2019
Grand Hyatt New York
109 E 42nd St
New York, NY 10017
We raised nearly $2.2M! Learn more: npower.org/gala
NPower Missouri | Shift the Hustle: Opportunities for Women in Tech
Saturday, June 8, 2019, 11:00 AM - 1:00 PM CDT
Ameren Corporation
1901 Chouteau Avenue
St. Louis, MO 63103
NPower's VP of Strategic Partnerships, Patrick Cohen, and Accenture's Darnel Thompson presented a compelling session "Leveraging Non-Traditional Talent to Develop a Diverse and Inclusive Talent Pipeline."
Brooklyn, NY
Learn more: npower.org/news/hr-uncubed-2019/
NPower CEO, Bertina Ceccarelli, led an impactful workshop on how organizations can support non-traditional talent. The conference gathers 300+ founders, CEOs and principals across industries to explore the best ways to build purposeful relationships with employees, customers and community.
Brooklyn, NY 
Learn more: npower.org/news/from-day-one-conference/
NPower Texas | 5th Annual Cyber Security Networking Event
Fri, July 26, 2019, 11:00 AM CDT
DCCCD Bill J. Priest Institute for Economic Development
Hoblitzelle Auditorium, Room 1530-B,
1402 Corinth Street Road
Dallas, TX 75215