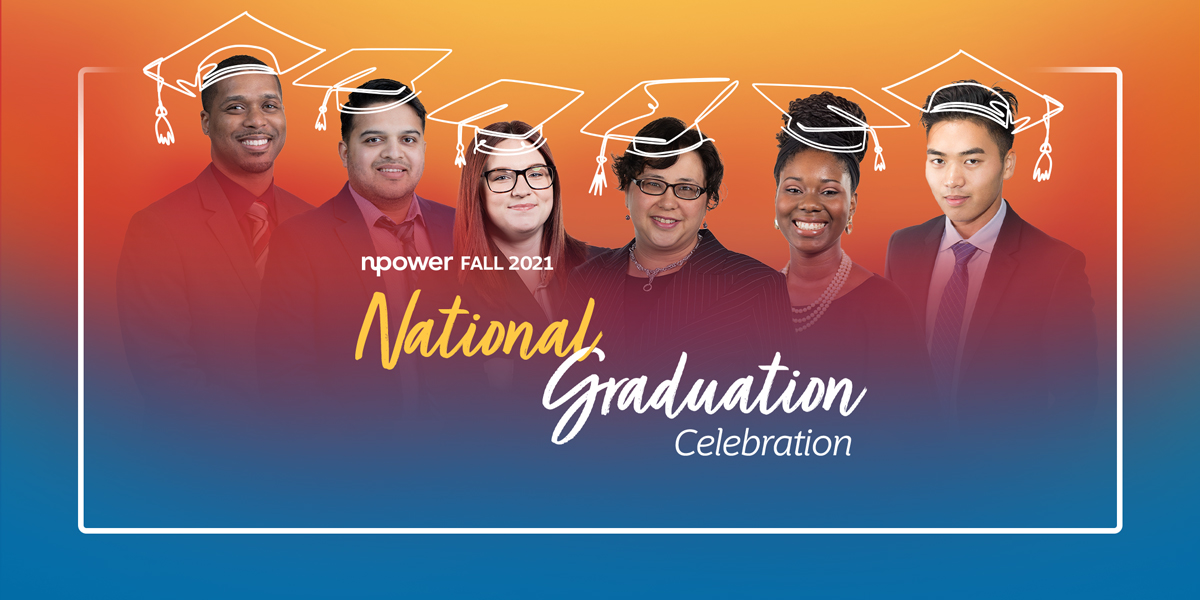 This past fall, NPower's Tech Fundamentals and IT Support Specialist students took the first step of many in a life changing path to success.
Over the course of four months, 375 trainees went from basic knowledge of technology to mastering coursework, earning multiple certifications and gaining in-demand skills.
Overcoming obstacles including an ongoing pandemic and personal hardships, these graduates remained hopeful and determined. Looking ahead to the new career opportunities that would become available, they were eager to make their mark in the industry.
Join us in celebrating the next generation of industry change-makers.
Speakers (in order of appearance)
Kaleena Eugene-Louis, Program Director, NPower Texas
Bertina Ceccarelli, Chief Executive Officer, NPower
Bea Tassot, Vice President of Field Operations and Military Programs, NPower
Vittorio Cretella, Chief Information Officer, Procter & Gamble
Careline Ruiz, Program Director, NPower New York
Faustino Malena, Graduate Speaker, NPower New York
Chris Starling, Executive Director, NPower California
Celeste Barajas, Graduate Speaker, NPower California
Alexandria Jones, Alumni Speaker, NPower Michigan
KEYNOTE SPEAKER
VITTORIO CRETELLA
Chief Information Officer, Proctor & Gamble
STUDENT SPEAKER
CELESTE BARAJAS
NPower California
ALUMNI SPEAKER
ALEXANDRIA JONES
NPower Michigan, Spring 2021
IT Programmer Analyst, State of Michigan
STUDENT SPEAKER
FAUSTINO MALENA
NPower New York
Operation Support Analyst, Bank of America
Give the Graduates a Digital High-Five!
Add a congratulatory note, message or photo to the official Kudoboard.
Maryland
Texas
Michigan
California
Missouri
New Jersey
New York
Maryland
Temidayo Adeleke
Brandon Agugoesi
Noe Amaya
Antoine Anderson
Emmanuel Ashekun
Waheed Ashiru
Brayan Benitez
Andruw Brown
Jamaal Brown
Karina  Brummell
Suriya  Buckman
Jessica Castellon
Michael Chase
Gregory Emony
Samirah Franklin
Anthony Gary
Javon Harris
Jordan Harris
Trevor Hunter
Madison Hutson
Jermaih Jacks
Mary Jackson
Davon Johnson
Devin Johnson
Keon Johnson
Khary Lemon
Umar Lopez
Tania Macharia
Damien Manalo
William Marlow
Brian McClintock
Rasheena McConneaughey
Brionna Mcdaniels
Nico McNair
Terry Morris Jr
Neil Moturi
Mikayla Pack
Nigel Parker
Daijah  Plate
Brinay  Prashain Prasai
Lealon Pratt
Atmanand Ramgolam
Christopher Rennie
Norton Revell
Latarsia WyKeela Robinson Maxie
Patrysha Rolle
Angel Romo
Jeremie Sanders
Vincent Short
Clinton Smith Jr
Sahid Suma Suma
Natnael Tesfay
Jonathan Wright
Texas
Michigan
California
Missouri
New Jersey
New York
Esteemed Professional Award
Los Angeles ITSS Student Testimonials
A special thank you to our supporters.
Through their support, we can transform the lives of young adults and their families, veterans and their spouses across the country through launching their tech careers.