Countdown to the Women of Color in Tech Report
On June 18th, NPower will release an original research report surrounding their work and learning around women of color in technology.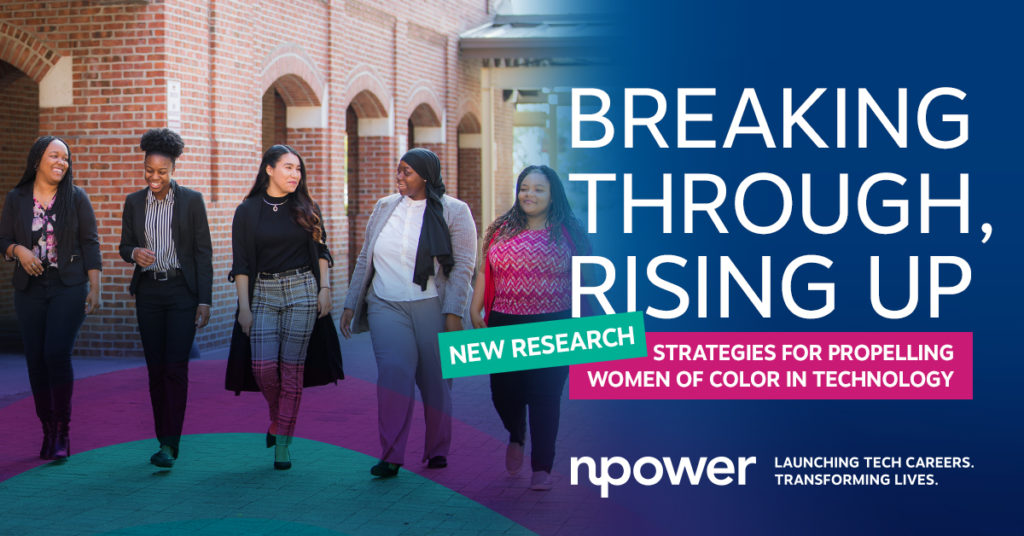 Original Women of Color in Technology Research: Breaking Through, Rising Up
Advancing Young Women of Color in Tech Careers NPower the Future
The 40 by 22 initiative: A movement to help young women of color advance in technology.
Despite the health pandemic, the tech industry is estimated to recover and grow in the months ahead. Historically, the presence of women, particularly women of color, in IT roles has not only been lacking, but has steadily declined. NPower, with the support of Citi Foundation, is on a mission to #NPowerTheFuture and help more young women of color advance in tech careers.
40 by 22 Initiative
In order to transform and diversify the industry, we need to identify and help address barriers to careers for women in technology. We recognize that the work starts at home—in our classrooms.
NPower has embarked on our most extensive mission to date through the 40 by 22 initiative.
We aim to increase our program enrollment of young women to 40% by 2022 in New York, New Jersey, Maryland, Missouri, Michigan and California.
We also aim to increase representation of female instructors to mirror our student goal of 40% in all the markets we serve.
We also want to evoke widespread change in the industry by starting conversations within the tech community. 
40 by 22 Impact Report
This report captures our programmatic achievements over the last two years about the success that can be achieved with focused and intentional effort, to support young women of color in our program.
It also lays the ground work for the research report, Breaking Through, Rising Up, launched on June 18th. 
Learn more in our 2020 Impact Report to Citi Foundation.
40 by 22 Convening Series
NPower has launched a series of community conversations to challenge the status quo and to eliminate the hurdles young women of color face when pursuing a career in technology. The three convenings across the country will  spark dialogue, promote authentic interactions, share ideas, and report our 40 by 22 progress.
Breaking Through: Tackling Barriers for Young Women of Color in IT
October 3, 2018 | Google in New York City
Discussions on the changes we can all help drive—at the systems, corporate, and personal level—to encourage more young women of color to launch high-growth tech careers.
Rising Up: Propelling Career Growth & Wage Equity 
May 22, 2019 | WWT in St. Louis
We challenged participants to delve into the issues young women face as they advance in their careers, and provide real-world examples and advice for navigating professional growth and wage equity. 
Reaching Back: Building a Path as  Mentor and Leader
November 13, 2019 | LinkedIn in San Francisco
The conversations will continue as we speak to established tech professionals on how to build a path behind you and become a culture changer for young women of color.
Media Coverage and Events
40 by 22 Ambassador
From NPower Student to Instructor
Meet Shannon Burt, NPower Maryland Assistant Technical Instructor. She shares her passion for the work she's doing within and outside of NPower in helping more young women in Baltimore claim their rightful seat at the table and their space in tech.
A Day in the Life of a NPower Student 
Maritza B. shares an inside look into her experience and journey as a NPower California Tech Fundamentals student.
"How to ditch a dead-end job and make a real career"
PIX11 News, June 5th 2018
Ateika Samuel, a technology consultant at Citibank, is living her dream.
Before her new career in IT, the bright and optimistic employee was a single mom waiting tables, hoping she'd find a way to pay for college to get ahead.
NPower the Future Student Profile: Ateika Samuel, Women in Tech Wednesday
Make a donation
Our programs are made possible through the generous support of individual donors, foundations and corporations. With your support we can continue to improve the lives of individuals and families in the communities where we live and work.
Refer someone to our program
Across the country, NPower is transforming job seekers from underserved communities into technology professionals with thriving careers. Consider applying for our next class.
Volunteer or attend one of our community conversations
Sign up for the NPower 40 by 22 newsletter and keep abreast of our progress, volunteer your time and learn how your company can partner with NPower.
At these gatherings we are tapping female leaders in technology to dive in to the issues affecting gender and racial diversity in technology to strategize solutions and evoke change on a larger scale.